Welcome to the TūHOE

blog
CHUR!
30 April 2015
Chur bo, chur brudda, chur.
It's a word that has become a part of our everyday vocabulary and is often used as a strong voicing of thanks, approval or agreement. Urban dictionary goes one step further to suggest that chur is "a term of agreement said by Māori bros who wear socks with their jandals'. But self-proclaimed urban Māori, Te Marunui Hotene (Hāmua / Ngāti Rongo) chooses to chur it out and forgo shoes altogether. We managed to sneak in a quick preview and interview with Te Marunui before the opening of his solo exhibition 'Chur'.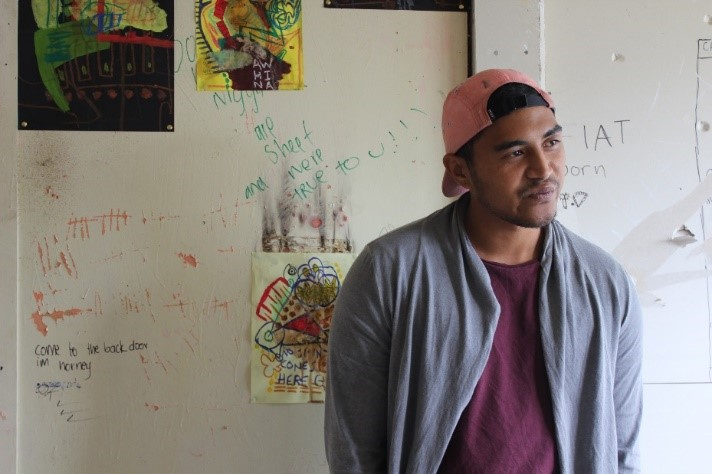 What does Tūhoe mean to you?
Identity really, strong identity which is what this show is about, especially identity as just a general recurring theme or motif in contemporary art, so this is my spin, my own kinda touch on an already existing kōrero. It's a part of me, it's a part of my make-up cause I'm not only Tūhoe I'm also from up north, Ngāti Awa, Ngāti Pūkeko, and it forms my identity - we're not all made up of one dominant culture, we're all multicultural now.
What inspires your work and what are you expecting from your audience at home in Tāneatua?
I draw from basically life experiences aye, the times of now, the times I have seen. I'm generally a figurative painter so I paint people, the people I see, the people I'm around, and generally what I see is pretty tough times, there is an unawareness to our social reality, to now. We have to be a bit more proactive to now. Pretty tough times. So I'm expecting a lot of talk, kaupapa, discussion.
You say it's tough now for the young people, what do you mean by that?
Oh, social times. Inequality is pretty raw. Growing up, we didn't really know who our antagonist was per se. So I come from the generation where we don't really understand the causes of all of the negative aspects. All around the world these other groups of people are suffering from generally western assimilated values, and that's the time we live in now, urban Māori, real urban.
And so where is it for you from here?
Well I'm going to be continuing to run this space. It' all about conversation aye, all about dialogue, as long as people are aware of the themes and ideas that I attempt to portray to them.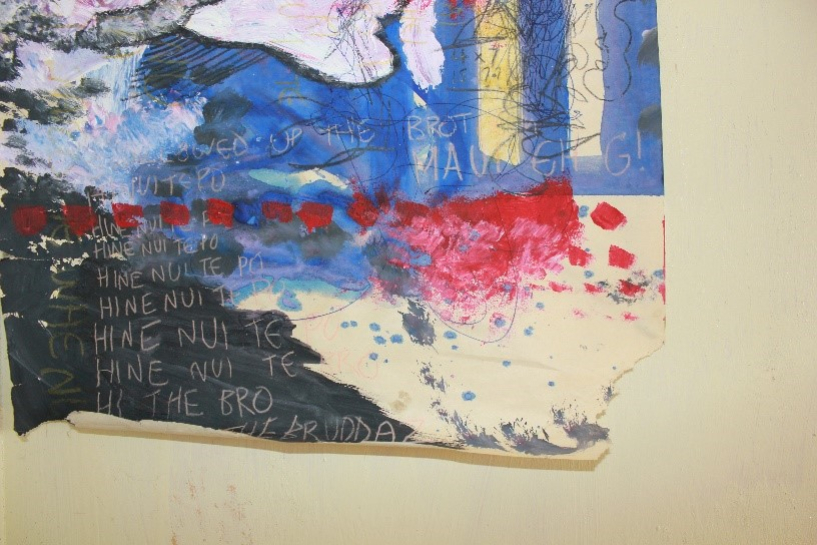 A recurring motif is the use of word play used throughout his work by adopting the 'word change' game where the aim is to change 1 letter at a time so that it eventually morphs into another word. Just like the above art piece Te Marunui has deconstructed 'hine nui te po to hi the bro'.
'Chur' runs from 17 April – 5 May at the Tāneatua Art Gallery