Welcome to the TūHOE

blog
State of the Art Fire Truck for Tāneatua
9 November 2018
Tāneatua Volunteer Fire Brigade has a new state-of-the-art fire truck, kitted out in Māori artwork and kupu.
"It is the first Type 1 truck in the area. She is more reliable than the old truck, flasher, has more space, quieter which is good coz she even has a CD player!" says Chief Fire Officer Laurence Richardson.
New Zealand Fire Service (NZFS) approached the Tāneatua Volunteer Fire Brigade and asked if they would trial a new branding. The Tāneatua team agreed to it because it would reflect the community well.
Te Mauri Apiata (Hāmua, Nati Rono) completed his firefighter training last month and says the rebrand was done to reflect the changing culture.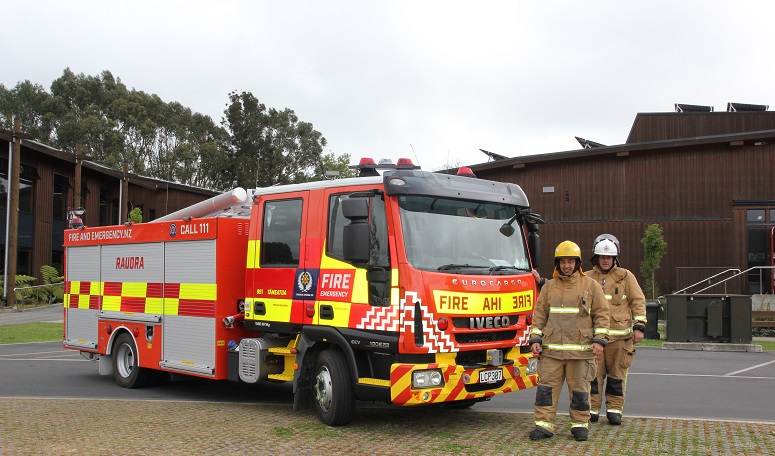 (L-R) Te Mauri Apiata and Laurence Richardson with the new Tāneatua Firetruck
"New Māori kupu and designs were added to give it a more bilingual look. It reflects the change in the personnel of the brigade as well, our volunteers now are primarily our hapū/whānau. Tūhoe Kaumatua from Ruatoki, Koro Ponty Hauwaho and Koro Beam Titoko came down again last night to karakia and bless the new truck."
The kupu 'rauora' is displayed on the side of the truck, and refers to 'rescue' - signifying the type of mahi firefighters are now called out to do. The poutama pattern features on the front and side of the truck, symbolising progression and learning.
"Fire is probably the least of our call outs, most of the callouts are medical emergencies or car accidents. As a firefighter you start off as a recruit, then you work your way up the steps to become a firefighter, then a qualified firefighter and so on," says Te Mauri.
Firefighters are also trained in basic life support levels or higher to support paramedics in life-threatening situations. NZFS say a good emergency response is a quick and unhindered response. A delay to intervention has a direct impact on the safety of people and the protection of property.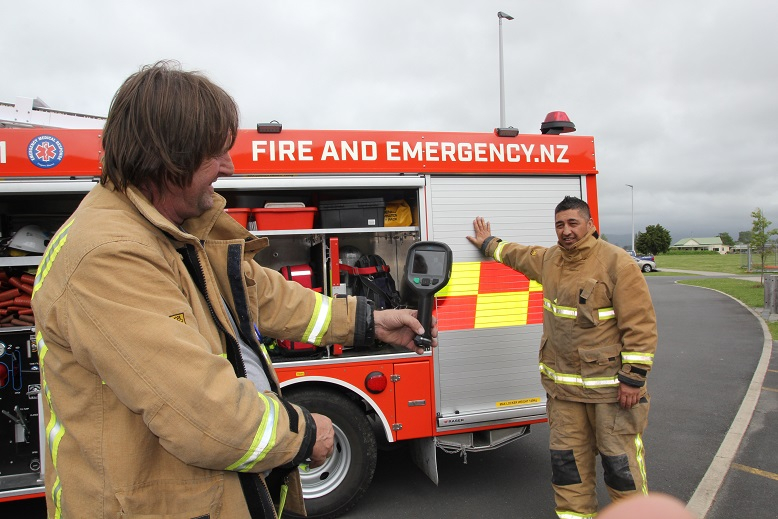 Laurence explaining how the Thermal Imaging Device works, which was purchased from proceeds fundraised by the Tāneatua community.
Laurence explains how whānau can be proactive at home to prevent a slow response. Including trimming back trees on driveways, and making sure mailbox numbers are visible.
"At times when we get called out to an emergency, we can't get our truck through driveways due to overgrowth of bush and trees. Also when we are called out to someone's house in an emergency at the night, it can be difficult to see the letterbox numbers if they have worn away."
Keen to become a volunteer firefighter? Call into a Tāneatua Volunteer Fire Brigade meeting, held every Tuesday evening at 7.30pm.