Welcome to the TūHOE

blog
Mānuka maestro on a mission
25 August 2016
Stevie Noe (Ngāi Tamatuhirae/Te Whakatāne) spent time as a young boy exploring the rich history and great outdoors of his backyard in Galatea, cultivating a love for nature under the watchful gaze of Te Urewera. His other memories of Tūhoe extend to the stories told to him by his mum. Stories of life in Waimana – where she was raised and how she had left the valley as a teenager. When Stevie was 13, he moved to the big smoke of Hamilton for High School, where his fondness for flora and fauna grew. This fondness developed into research, and now Stevie is close to submitting his Master's thesis to the University of Waikato.
"Science has always been my interest – not only because of the wonder of nature, but also because of the improvements we can achieve through understanding life, and developing scientific knowledge. I cannot imagine spending my days doing much else than working to gain understanding of how things function, and how we might better ourselves and the opportunities that are available to us."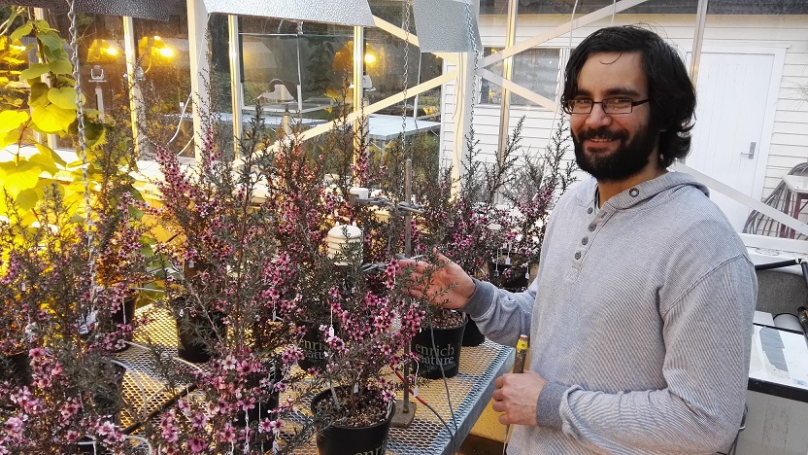 As a successful recipient of this year's Tuhoe education contributions, his research involves growing mānuka plants in glasshouses where he is able to manipulate environmental factors like temperature and sunlight levels. He is then able to measure the effects of these environmental factors on the mānuka nectar composition. Stevie says the research will yield important information that will benefit both science and the blooming mānuka honey market.
"The unique chemicals found in mānuka nectar determine the UMF value of mānuka honey, and hence it's antimicrobial activity and potential health benefits, as well as the sale price. I am investigating how the levels of these important nectar components vary with flower age and environmental conditions. There is large interest in the growing mānuka honey industry, where demand hugely outstrips supply, but there is not a lot of sound, evidence based advice for people to follow."
UMF is a quality trademark and grading system. It identifies natural unadulterated manuka honey that has a unique natural property found only in some strains of manuka honey. The UMF grading system appraises natural markers found in Manuka honey, and assures purity and quality. Stevie explains that the research he is undertaking is intended to provide fundamental knowledge that is currently missing on how and why nectar production is so variable. The demand for mānuka honey is huge because native mānuka is unique for its antibiotic properties, commonly used for ronoa or medicinal purposes. With predictions of major growth in the mānuka honey industry, Stevie expects production to shift from wild harvest to plantation farming.
Confident that his scientific research contribution will play an integral part in achieving sustainable Tūhoe economic growth, Stevie hypothesizes that his research will also contribute to filling fundamental knowledge gaps between himself and his whakapapa.
"I hope to become more involved and more a part of Tūhoe, improving in the ways I can contribute...I hope Tūhoe will continue to support its members like myself who live distant from Te Urewera, but who want to be involved and learn about their heritage, and re-build lost connections."