HE IWI KOTAHI, HE TIKANA KOTAHI, HE AHUNA KOTAHI
The above whakatauki speaks about the consolidation of Tūhoe assets as we unifying as an Iwi under one tīkana and one vision.
The Trust Fund is a legal structure that holds our resources, it is reflective of the hardship, loss, sacrifice and struggle of the past while also providing open growth opportunities for current and future generations. It is a collective instrument that makes Tūhoe stronger when used in partnership with assets that are natural to the Tūhoe way of life, kinship values and connection to the land.
The Trust Fund is made up tāona and assets.
Tāona are those things that are precious, priceless and irreplaceable to us. They are the things that we work for, are culturally significant and last forever.
Assets are the items that work for Tūhoe and enable Tūhoe to achieve our goals, protecting the tāona and the Tūhoe way of life.
The Trust Fund is governed by the Te Uru Taumatua Board and managed through an independent Investment Committee.
THE MĀTOHATOHA MODE
l
The Mātohatoha model was designed to support Tribal growth, sharing and preservation initiatives. It works as a tool to consider livelihood opportunities so Tribal projects can be prioritised using a consistent development framework. Some of the projects that fall under this model are high speed broadband at Waikaremoana, the Waimana Medical Centre, Ruatāhuna water supply, Natures Road and Education Grants.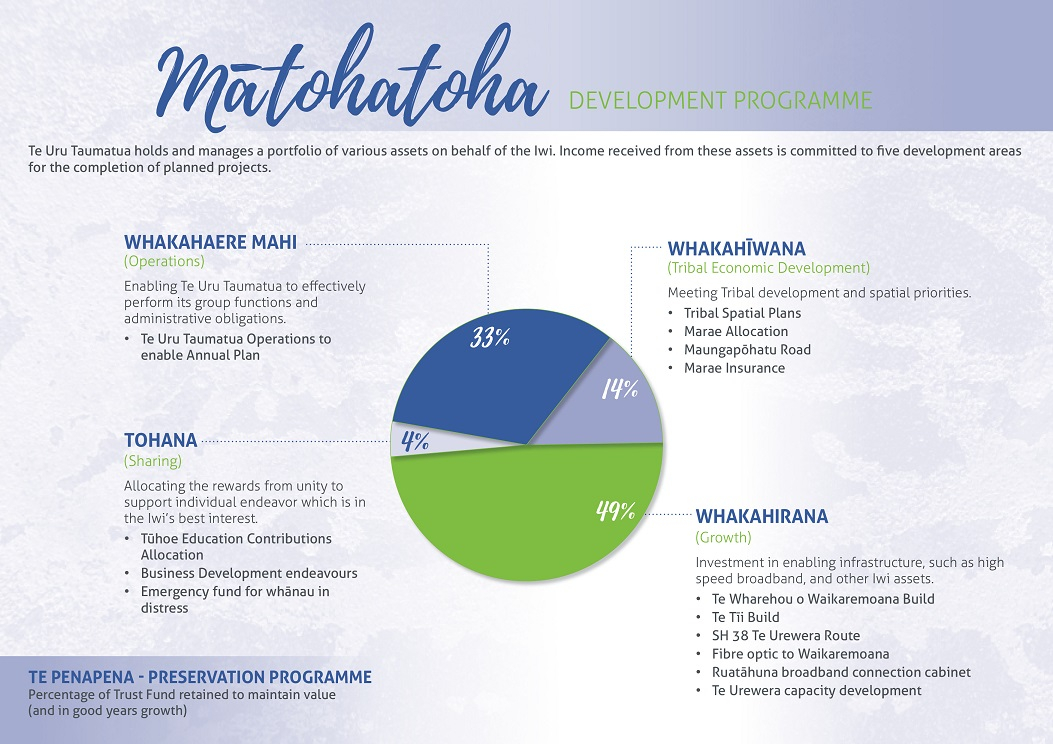 Tūhoe trust fund asset composition
| | | |
| --- | --- | --- |
| | 31-03-2021 | 30-06-2021 |
| Financial Portfolio | $185M | $191M |
| CNI Equity | $78M | $78M |
| Forests | $28M | $28M |
| Fishing Shares and Quota | $23M | $23M |
| Other Assets | $44M | $44M |
| Cash | $44 | $43M |
| Total | $402M | $407M |
| | | |
Te Uru Taumatua is a stakeholder in a number of entities or companies. These entities also serve the vision and mission potential of Tūhoe.
The subsidiaries include:
Tūhoe Charitable Trust
The purpose is to promote the health and wellbeing of Tūhoe people, to support marae-hapū and whārua growth. Therefore ensuring the sustainability and permanency of Tūhoe communities. The Tūhoe Charitable Trust is a registered Charitable Trust a wholly owned subsidiary of Tūhoe – Te Uru Taumatua.
Central North Island (CNI) Iwi Holdings
CNI Iwi Holdings Ltd is an asset holding company that holds Tūhoe land interests in Kaingaroa. The company is a collective structure made up of 8 Central North Island Iwi (CNI); Nāti Tūwharetoa, Nāti Manawa, Nāti Whare, Nāti Raukawa, Nāti Ranitihi, Nāti Whakaue, Te Pūmautana o Te Arawa and Tūhoe.
Tūhoe Fisheries Quota Limited (TFQL)
Tūhoe Fisheries Quota Limited manages the Tūhoe fisheries settlement assets, that is made up of quota (a share of fish species) and income shares in Aotearoa Fisheries Ltd. Learn more here.