No guns in Iti's training camp plan
7 August 2013
No guns in Iti's training camp plan
5:30 AM Wednesday Aug 7, 2013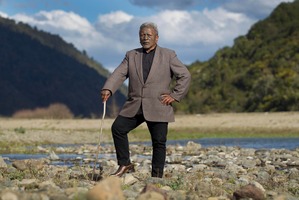 Tuhoe activist Tame Iti wants to run training camps in Te Urewera with "no guns, no molotov cocktails, no spies" for people who want to learn teamwork, motivation and communication skills.
Mr Iti was released from prison in February after serving nine months of a 2-year jail term for firearms charges.
He plans to take participants into the hills under a training school named Te Kura a Rongo. Participants would trek around the Ruatoki hills for 24 hours, Mr Iti said.
"The whole thing is about working collectively, working with a group of people you don't really know.
"I always had [this] idea. That's always been the idea and [also] part of the training camps accused of running the terrorist camps ... but we used firearms.
"I've been working for many years in training camps. [This will be] no guns, no molotov cocktails, no spies."
Mr Iti said the camps would be open to everyone and would be a chance to tell Tuhoe stories, show that the iwi was moving on from historical Treaty issues and create jobs. He would use the "profile" he had gained from the Operation 8 police raid in Ruatoki in a positive way.
The short courses are scheduled to begin in November and run at weekends through to December, costing campers $200 to $300.
It would be better than an SAS course, Mr Iti joked.
"We're going to motivate and work with people. It's a lot of walking, eeling ... we're doing some rongoa [traditional healing] training, we've got the lady who's doing the rongoa and she'll be doing that, so it'll be pretty full on - you'll be buggered by the end of the day."
Mr Iti's parole conditions do not specify any particular conditions on employment, but probation officers do have the power to stop parolees from engaging in specific jobs.
A corrections spokeswoman said: "The probation service is managing this offender according to his parole conditions.
"Probation is not aware of Mr Iti's business plan and awaits being given information by him."
Police national headquarters would not comment.