Alerts and Important Information
ONEPU TRACK CLOSED FROM OMAHURU CAMPSITE
The all-weather access to Onepu Track from Tauwhare Omahuru Campsite (Ogilvies) is closed due to a large slip. The Onepu track is still open. Please use the main access via the Tauranga River. An inspection of the slip is planned during the week of 24/04/2017. We will provide an update following the inspection. Contact Te Uru Taumatua on (07)3129659 for further information.
---
media release - manuhiri to te urewera
All Te Urewera catchments received significant amounts of rainfall from Ex-Cyclone Debbie resulting in many rivers exceeding historic peak flood levels. Road closures have meant access being cut off to some areas in Te Urewera. Visit Whakatane (www.whakatane@govt.nz) and Wairoa District Council (www.wairoadc@govt.nz) websites for updates on the roads into Te Urewera.
Manuhiri looking to spend time in Te Urewera need to take extreme care while interacting with Te Urewera. We advise avoiding routes and tracks where all bridges are needed to cross waterways. Manuhiri should prepare for significant track damage due to slips, tree-fall and bank erosion, and be prepared for impassable tracks.
For those Manuhiri camping in Te Urewera treat all drinking water by boiling it or using water purifying tablets.
Feedback including photos of tracks and short walks can be emailed to tina@ngaituhoe.iwi.nz or dropped off to our staff at Te Kura Whenua, Waikaremoana.
Lake Waikaremoana Great Walk Track -
Is temporarily closed until further notice, with an update due on the 12th April allowing for a full inspection of a range of critical facilities and structures to be carried out. Our Team have identified a range of significant remedial works required, and are working towards opening part of the track as soon as safely possible.
Boating on Lake Waikaremoana -
There is a significant amount of debris floating around the lake, carried down from the rivers and streams - extreme caution is necessary.
Ogilvies, Waimana Valley -
There is a slip off Ogilives and is yet to be assessed by the Council.
Te Urewera Weather
More wet weather is forecast for mid next week for Te Urewera. Visit the Metservice website for weather information for Te Urewera- www.metservice.com.
To be kept up to date go to our website www.ngaituhoe.iwi.nz or follow our Te Urewera facebook page. All those booked to do the Great Walk over the next week contact Te Urewera Visitors Centre on 06 837-803 or 06 837-3900 to make changes to your booking.
Ends
---
PEKATAHI BRIDGE DECK REPLACEMENT
NZ Transport agency has confirmed work on the Pekatahi Bridge will start 7 February and will be finished in May 2017.
The Pekatahi Bridge will be closed and a road diversion in place for approximately three months. White Pine Bush Road will be closed between Pekatahi Bridge and the junction of Taneatua Road. Traffic will be diverted via State Highway 30 and Whakatane (see map below). Access to Foster Road and Nuku Road will be from the Awakeri end of White Pine Bush Road. Uzabus will provide a school bus to and from Taneatua school for the affected families.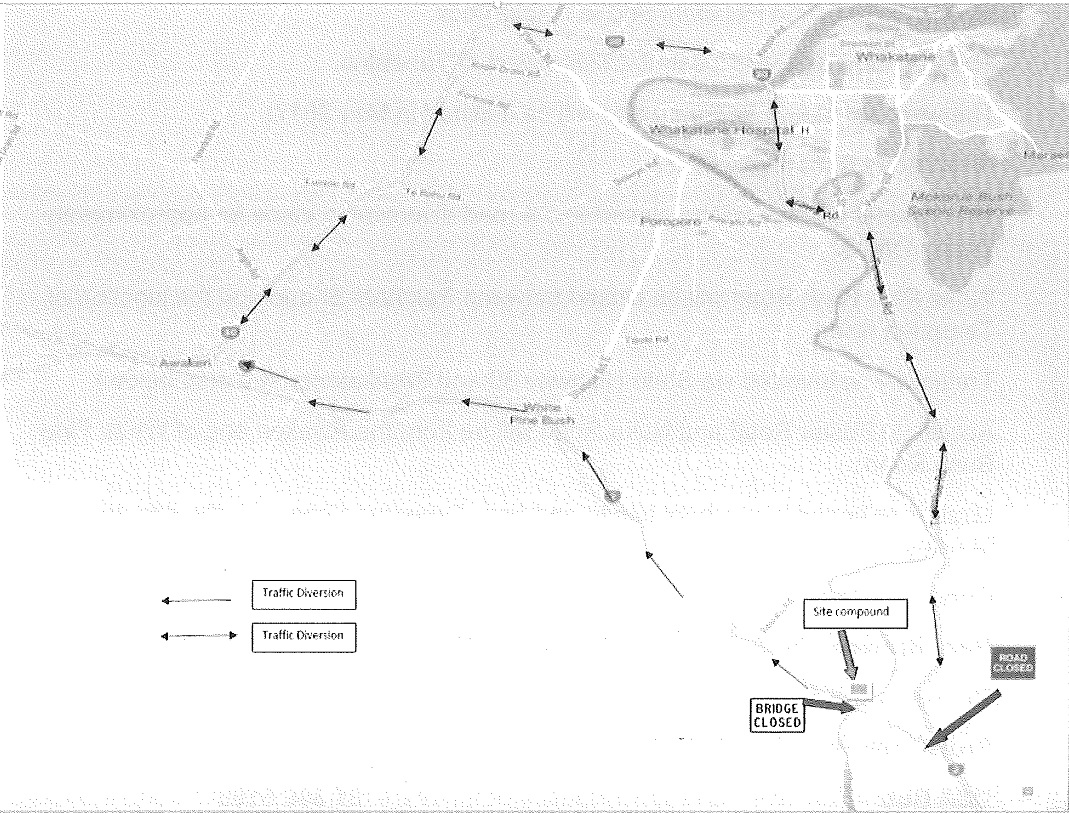 ---
Manuoha to Sandy Bay track Closure
The Manuoha to Sandy Bay track section is closed due to fallen trees across at the track. It will remain closed until contractors are able to clear this section.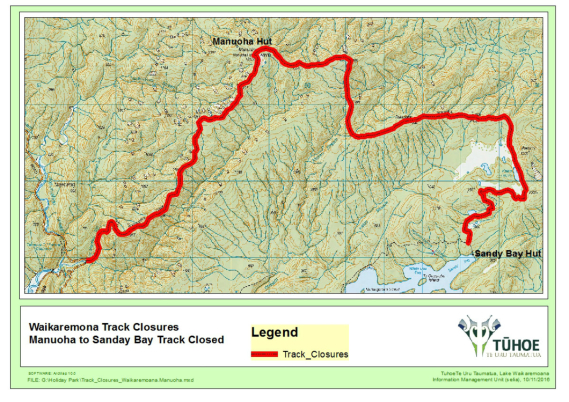 Our Te Urewera Visitor Centre team are on hand to suggest alternative Waikaremoana walks by calling (06) 837 3900.
9 November 2016
---
HEREHERETAUA TRACK
The Hereheretaua track, from Whanganui Hut to Hopuruahine, is temporarily closed due to track damage.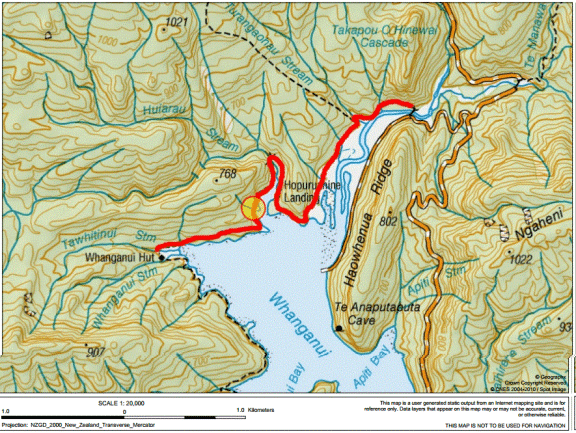 19 July 2016
---
Lance's hut removed
Lances Hut has been removed due to erosion and offers no shelter or any facility to users at all. Please plan your trip with this in mind and take a temporary means of shelter with you.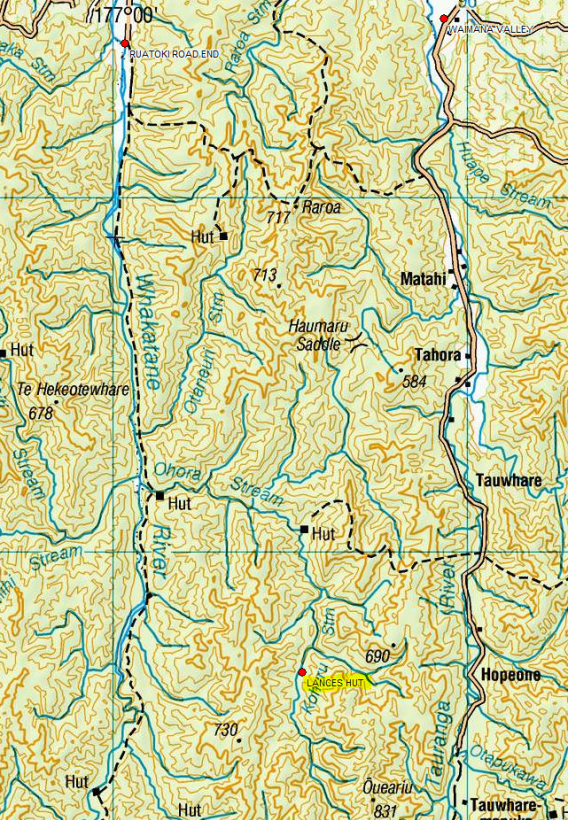 19 July 2016
---
Midway hut closed
Midway Hut has been burnt to the ground and offers no shelter or any facility to users at all. Please plan your trip with this in mind and take a temporary means of shelter with you.
---
Otamatuna / Mangaone – No Hunting
A reminder to our Te Urewera hunters that no hunting is permitted in the Otamatuna and Mangaone area in the Waimana Valley.
Te Urewera needs your support to look after our kōkako, whio and kiwi sanctuary areas, to continue the good work that's going on.
Reviewed 28 October 2015
For any queries regarding permits for hunting in Te Urewera please contact Moana at Te Uru Taumatua on (07) 312 9659 or email permits@ngaituhoe.iwi.nz.