Tūhoe Te Uru Taumatua Hui ā Tau
12 September 2014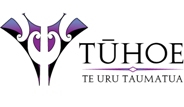 Hui-ā-Tau
A day for sharing information on Tūhoe Developments with a preview of what's up ahead.
Date: Saturday 11 October 2014
Venue: Te Kura Whare: 12 Tūhoe St, Tāneatua
Hui: 10:00am – 1:00pm
Lunch: 1pm onwards
Ngā Whakahaere:
Ngā kōrero a te Poari – Highlights from the Board
Ngā mahi a ngā Taraipara – Tribal Development Priorities
Te Koronga Whakataenga - Our Year in Review
The Tūhoe Trust Fund – Performance
TUT Finances
General
He Koronga Whakataenga, your annual report will be available to you online from 03 October 2014 www.ngaituhoe.iwi.nz. If you require any information, or just want to share with us your ideas drop us a line, call in or wāea mai (07 3129 659), korero@ngaituhoe.iwi.nz.
Tāmati Kruger
Chairman