Meet the Board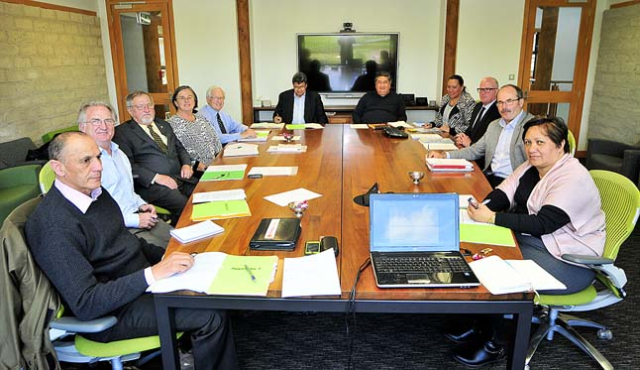 From left to right: Mathew Te Pou, deputy chairman, Dave Bamford, Dr John Wood, Jo Breese, Rt Hon Jim Bolger, Te Tokawhakāea Temara, Tamati Kruger, chairman, Kirsti Luke (Chief Executive of TUT), Paul Beverly (Partner Buddle Findley), Lou Sanson (Director General of DOC) and Lorna Taylor.
Matthew Te Pou (Taneatua), a former trustee of Tūhoe Te Uru Taumatua Board, has had a long career in the NZ Army, and as a coach of the Māori All Blacks. Matt was a facilitator of the Central North Island Forestry settlement.
Dave Bamford (Lower Hutt) is a consultant with Tourism Resource Consultants and has over 30 years' experience in sustainable tourism development in New Zealand and overseas. He has been a member of the Sir Edmund Hillary Outdoor Recreational Council and was the President of the New Zealand Alpine Club.
Dr John Wood (Kaikoura) is the current Chancellor of the University of Canterbury and a former Ambassador to the United States. John was Chief Crown Negotiator for the Whanganui River and Tūhoe Treaty settlement negotiations.
Jo Breese (Wellington) is an environmental consultant and member of the New Zealand Conservation Authority. She is a former Chief Executive of World Wildlife Fund-New Zealand, a Director of Antarctica New Zealand.
Rt Hon Jim Bolger (Te Kuiti) was Prime Minister of New Zealand from 1990-1997, and the Ambassador to the United States from 1998-2001. He had held numerous high profile appointments, including chairman of New Zealand Post and its subsidiary Kiwibank, Chair of Kiwi Rail and Chancellor of Waikato University.
Te Tokawhakāea Tēmara (Rotorua) is has served as a trustee on Tūhoe Te Uru Taumatua and was the Chairman of the former Tūhoe Waikaremoana Māori Trust Board for 10 years. He previously served on the East Coast Hawke's Bay Conservation Board.
Tāmati Kruger (Taneatua) is the Chairman of Tūhoe Te Uru Taumatua, and was the Tūhoe Chief Negotiator for the Treaty settlement. A recognised authority in Te Reo Māori and customary practices, Tāmati has worked in tribal research and development for many years.
Lorna Taylor (Waikaremoana), was a former Board member of Tūhoe Te Uru Taumatua and a Trustee representing the Waikaremoana region to the mandated Tūhoe Trust who negotiated the Tūhoe Treaty settlement.